Cash On Delivery is only for Colombo 1-15 and Colombo Suberbs Area
Order placed using Cash on Delivery (COD) payment method, one of our Customer Care Agent's will call you to re-confirm your order. Please make sure to register your mobile number with us to proceed the order. By selecting Cash on Delivery, you have agreed to pay at the time of delivery.
Please note that Cash on Delivery will not be applicable for all perishable goods (Food items and Flowers)
Delivery time is calculated in business days.Standard delivery rates will be applicable.
Products in stock will be sent after the payment is verified. Mail service is responsible for the goods during transportation.
Please, open the package delivered under your order the moment you receive it. If any damage is revealed, make claims against mail service.
Any questions? Contact our Customer Service at (+94) 11 286 26 26 / (+94) 71 086 26 26
1.2m Cable Length
Premium Sound
Passive Noise Cancelling
Anti-tangle
Built-In Mic
Wristband Design
20Hz- 20KHz Frequency Response
The Unique Design
The unique design of Vogue-2 means you can wear your headphones on your wrist when you're not using them. This eliminates the frustration of losing your earphones, finding them tangled in your pocket or damaged at the bottom of your bag. Whether your earphones are on your wrist as a stylish and comfortable bracelet, or in your ears as a great sounding headphone, they are a must-have accessory that finishes off any outfit perfectly.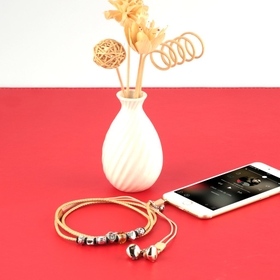 Premium Sound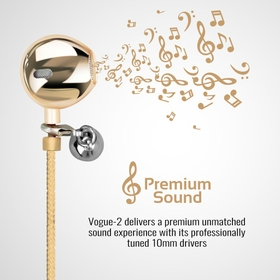 Promate Vogue Wearable Wristband Style Leather Stereo Earphone is a Premium Universal In-ear Stereo Earphone with In-line Mic for Music & Calls. Vogue-2 delivers a premium unmatched sound experience with its professionally tuned 10mm drivers.
Say Goodbye To Your Muffled Phone Calls
Passive Noise Cancelling, Vogue-2 delivers rich crystal clear sound with minimal interference due to its enhanced ear-buds that block out your noisy environment. Anti-tangle, Fabric anti-tangle cable adds on to the design & functionality of this amazing pair of headsets. Built-In Mic, Vogue also features an inline Mic that lets you make and receive calls on the go at the touch of a button.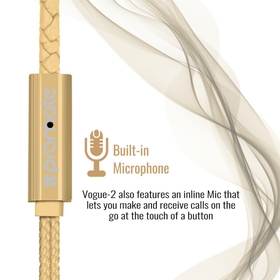 Stylish Design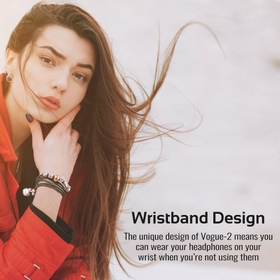 Wristband Design, The unique design of Vogue-2 means you can wear your headphones on your wrist when you're not using them. Stylish Design, Extremely lightweight wrist wraps for easy carry and fits perfectly in ear

Returns accepted within 3 days, only for damaged or wrong products.
Return offered in the form of
Cash refund or Product exchange
.
Buyer is the responsible for the shipping fees